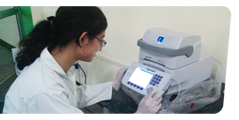 Refsyn Biosciences Pvt Ltd is an ISO 9001:2008 certified company, registered under Government of Puducherry & approved by Ministry of Corporate Affairs, Government of India by the companies act, 1956 (No. 1 of 1956), corporate identify number: U74900PY2012PTC002664 established in India in 2012. Refsyn is situated in heart of the Puducherry, one of the most popular tourist spots. We have around 2,000 sq. ft. laboratory space with sophisticated instruments.
CONTRACT RESEARCH ORGANIZATION
Refsyn Biosciences is an innovative leading contract research organization (CRO), focus on specializing in custom synthesis and provide research services for the Pharmaceutical, Biotechnology and Agrochemical industries on a contract basis. Our team support for the research, development and synthesis of Active pharmaceutical Ingredients (APIs) related substances, Impurities, Metabolites, Internal Standards at Milligram scale. We are specialized in the synthesis of hydroxy, demethylated, N-oxide and glucuronide metabolites, which are essential for their structural confirmation and pharmacologic/toxicological/ Agrochemical characterization.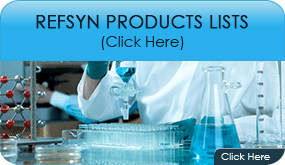 HANDS-ON INSTRUMENTATION TRAINING
Refsyn Biosciences Pvt Ltd also provides State-of-Art-Lecture with Hands-on Industrial Instrumentation training (Industries & Academic), Job oriented internship program, summer training program, Workshop. We support the students for their summer training in Biotechnology, Biochemistry, Molecular biology, Chemistry, Quality control, Pharmaceutical analysis, Food science, Plant technology, Phytochemistry, Microbiology etc.
PROJECTS SERVICES
Refsyn Biosciences Pvt Ltd conducts projects for the students of B.Sc, M.Sc, B.Tech, M.Tech, B.Pharm, M.Pharm, M.Phil in various field like Botany, Zoology, chemistry, Biochemistry, Microbiology, Molecular biology, Food science, Nanotechnology etc. The complete Hands-on instrumentation oriented projects help the students to develop the technical skills which will give the biggest support for their career.


REFSYN JOURNALS (
3.015 IMPACT FACTOR
)
International Journal of Innovation in Pharma Biosciences and Research Technology (IJIPBART) is an international journal with peer-reviewed, open access journal published by quarterly also intended for professionals and researchers in all fields of Life sciences and Pharmacy. It was registered as an independent organization, a unit of Refsyn Biosciences Pvt. Ltd., is delivering supports and services to education professionals and researchers around the world, especially those from the developing countries. Refsyn-Journal is the association of Scientists, Research scholars, Professors, Directors, Managers, Engineers, Pharmacy persons of various fields like Pharmacy, Applied Science and Life sciences. Refsyn-Journal helps the researchers free of cost by providing right direction in their research with the help of its worldwide research association members.
BROCHURE

Link

ANALYSIS SERVICES
Refsyn Biosciences Pvt Ltd also provides the analytical services for the research scholars and small scale industries. we perform the analysis related to Herbal analysis, water analysis, food based analysis, phytochemical, biochemical, microbiological, molecular biological, chromatography, enzyme studies, Nanoparticle studies and other instrumentation support analysis like FT-IR, GC-MS, NMR, MASS, XRD, SEM-EDAX, TLC, HPTLC, HPLC, PCR, UV-Spec, Viscometer.
BROCHURE

ANALYSIS COST

To emerge as the leading and most admired research based company.
Our mission is to provide passion, pride and timely quality services and superior customer service to meet the requirements and expectations of each and every customer.